Taking an oh-so-quick-blink-and-it's-over break at work to link up with
lowercase letters
for Miscellany Monday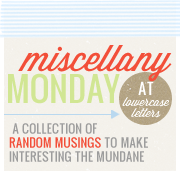 Many of you (or at least people you may know/work with) are getting swept up in March Madness, or what I refer to as the most wonderful time of the year. You may be filling out brackets with your own proven selection process -- seeding, conference, mascot, uniform color, the team your high school boyfriend rooted for,
whatever
. No matter what method you use to figure out your own March Madness, good luck to you all. Oh, unless I am in the same pool as you. In that case, I hope the team you pick to win it all chokes in a stunning second round loss and your entire bracket becomes worthless.
And if you aren't all aware, and I see NO reason why some of you would/should be, today is Pi Day. Yes Pi, no "e." As in, 3.14. Which is why it is celebrated on March (3) 14th. Get it? What I am saying is, YES, there are people out there that felt the need to create a holiday commemorating the mathematical constant pi(π.)
Why do I know about Pi Day? Because I grew up with a math teacher for a mother. And can prove to you that the penchant/gift for all things numbers is most definitely not genetic. Or if it is, it definitely skips a generation.
Wishing you all a Happy Pi Day and enjoyable March Madness (again, unless you are in one of my pools....then I wish you nothing but loss and sadness)